Is Plastic the Right Material for Your Manufactured Part?
Our precision plastic machining services take advantage of the never ending value offered by plastic. As the industry of plastic continues to change and become increasingly innovative, Jaco changes with it, adapting to the latest state-of-the-art technology available. Plastic polymers continue to increase in strength and durability and now, a wide range of industries is able to enjoy the cost-effectiveness of plastic.
At Jaco, we understand the value of plastic and do what we can to stay on top of the continual innovations and improvements in the plastics industry. These continuous innovations ensure that Jaco is one of your leading plastic manufacturing companies. Whether you need a material that can stand extreme temperatures, offer maximum fluid control, be lightweight, allow for structural bearing, be available at a low price, or offer a combination of all of these things, plastic can be the right choice for your product.
At Jaco, we'll help you choose the right material and design a prototype, and see your project through to the end, ensuring you receive exactly what you had in mind.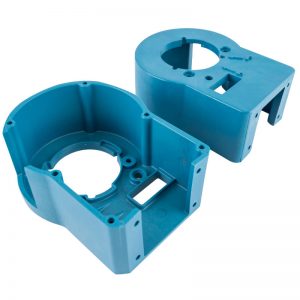 High Quality Precision Plastic Machining
We want you to be happy with your product and we will do whatever we can to ensure this is the case. Quality and customer service are our top priorities. We offer a variety of services to ensure you get the best precision plastic machining experience, including:
Expert Material Recommendations
Plastic Materials That Can Be Machined
Jaco specializes in the machining of:
Delrin
Nylon 6/6, 6, 6/12
HDPE
FR-4
G-10
PEEK
Lexan/Polycarbonate
PTFE
Teflon
Udel
UHMWPE
Acrylic
Ultem
Plastic Machining for Industries
We service a number of industries. If you do not see yours on the list below, give us a call. We will discuss your needs and determine how to best help you develop and produce the product you need. Precision plastic machining is available for
Fluid Handing & Processing
Finding a reliable source for your plastic product is essential to your success. We understand the importance of quality, reliability, and value, and we do what we can to make your experience as positive as possible.
If you would like to know more about Jaco's precision plastic machining or you have a product to discuss, give us a call.