Searching for 5-axis CNC Plastic Machining?
This part was being produced by another plastic machine shop. The customer was receiving a high-level of parts that they had to reject. They required a hole to hole tolerance of ±0.001″ and their previous supplier had a hard time achieving it consistently. Jaco's technical staff reviewed the part and determined that by using a 5-axis machining center with two set-ups that they could not only hold the required tolerances but also reduce the part cost by reducing the set-ups.
The part is machined from acetal which is a stable, non-hygroscopic, NSF approved material well suited for food processing equipment. This component is part of a rail system used in food processing manufacturing.
Jaco was able to help this customer reduce their part cost and reject rate. Jaco's 5-axis CNC plastic machining staff welcomes the opportunity to review your machined plastic parts to see if their experience, advanced precision plastic machining techniques and a little creativity can reduce your cost on complex plastic components in addition to improving part quality and tolerances.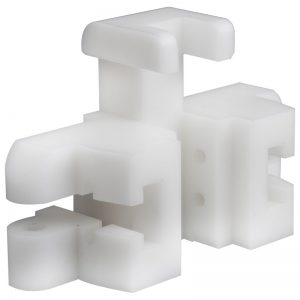 Plastic Materials We Work With
Jaco specializes in the machining of:
Delrin
Nylon 6/6, 6, 6/12
HDPE
FR-4
G-10
PEEK
Lexan/Polycarbonate
PTFE
Teflon
Udel
UHMWPE
Acrylic
Ultem