Plastic Machining Manufacturer
Jaco's offers plastics machining for a variety of different industries. In many cases, plastics offer a more cost-effective alternative to metals. The price of metal continues to rise, leaving many designers to find an alternative to their traditional metal machine parts. Plastics provide this alternative and offer a reliable, long-lasting, high-performing option for many industries. NIST Manufacturing Portal
If you have never considered plastics to replace your metal parts or you have and you are ready to learn more, we can help.
Plastics on Which You Can Rely
What do you get with Jaco? State-of-the-art CNC machinery and more than 60 years of experience! We get it right the first time, every time, and you get what you need in a time-sensitive manner.
We take pride in supplying our clients with exactly what they need. Whether you need to design a new product and need assistance with the prototype process or you are looking to improve on a product that already exists, we can help. And if you are unhappy with your current machining plastics company, we'd be glad to make your life easier and provide the service you need.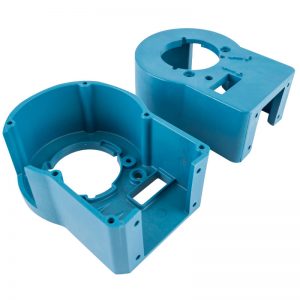 Plastic Materials We Work With
Jaco specializes in the machining of:
Delrin
Nylon 6/6, 6, 6/12
HDPE
FR-4
G-10
PEEK
Lexan/Polycarbonate
PTFE
Teflon
Udel
UHMWPE
Acrylic
Ultem
Benefits of Plastics
Concerned plastics can't do for you what metal has done all along?
Consider this: Plastics eliminate problems with rust and corrosion. They are 15% of the weight of steel products and dramatically reduce noise. They are cheaper than stainless steel and easier to maintain, saving you money initially and over the long-haul. Jaco's plastics are FDA, USDA, NSF, and 3-A dairy compliant. You get just as high-quality a product, but for a lower price and with less trouble.
Can Plastics Work for You?
Plastics applications include
Water Treatment

Food Processing

Packaging Equipment

Lumber

Machinery Wear Parts
If you have questions about plastics machining or you are ready to discuss your situation with Jaco, give us a call 440-632-5800 • fax 440.632.0012.