Quality Assured Precision Plastic Manufcaturing
Jaco specializes in machined plastics fabrication of high-quality precision plastic for machining customized to meet your exact specifications. We utilize a wide variety of machining equipment and offer conventional plastic machining for the production of durable plastic components at competitive prices.
None of the products we work on leaves our facility with sharp or non-machined edges. Items are inspected carefully, so we can ensure your absolute satisfaction. We also provide plastic polishing, molded part alterations, and engineering services to meet all of your plastic fabrication needs.
Advantages of Machined Plastics Versus Molding
Our experience producing quality components makes it possible for us to service a variety of industries. Whether your needs are related to the automotive, marine, aerospace, military, or chemical industry, or something else entirely, we can help you create perfectly machined parts each and every time.
No need to invest in a mold

Materials that are difficult to mold can still be created effectively

Able to accommodate parts at numerous angles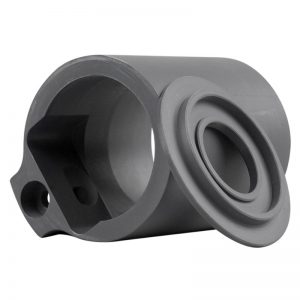 We are proud to say our service meets high industry standards and is ISO and SAE compliant. There are many benefits to working with us when it comes to CNC machining plastic, including:
In-stock materials

Products from a variety of plastics

Products annealed for maximum strength
CNC and Conventional machining facilities

Customized parts created from samples, sketches, or prints

Thorough post-machining inspections

Precision components made to your specifications
Top Quality Machined Plastics to Meet Your Needs
Jaco creates the highest quality machined components and plastic fabrications available today. We use cutting edge technology and make it our priority to stay on top of changes in the industry. Our goal is to offer only products made from state-of-the-art techniques and equipment.
Our machining equipment is able to process a range of components. We are able to use fewer setups and more efficient cycle times than the traditional production methods, ensuring you benefit from the most efficient process every time. This saves you money without jeopardizing quality or durability.
Jaco's Machining Capability and Benefits
Jaco has the ability to service a wide range of markets to produce solutions to the challenges faced in your business. Our highly engineered plastics feature unique physical properties and tight tolerance. This means they are durable and high-quality, without busting your budget.
Our goal is to offer the best and most efficient machined plastics experience to every customer. When you work with Jaco, you are guaranteed:
Most materials will always be in stock

Access to state-of-the-art computerized machinery

Ability to produce parts from a variety of types of plastics

Custom parts just as you want them, from samples, prints, or sketches

Post machining quality inspections

Custom components made to your specifications
If you want to know more about machined plastics or you are ready to discuss your prototype with machining experts, give us a call! 440-632-5800 • fax 440.632.0012.