Jaco Products World Class Plastic Fabrication Company
Jaco Products is a leader in the fabrication of production components and distribution materials. We have upheld a reputation as one of the top plastic manufacturers in Ohio for over 60 years. This Ohio plastic fabrication company, can assist you with all of your precision plastic prototyping, meeting specific product needs.
What is Plastic Fabrication?
Plastic fabrication is the design, manufacture, or assembly of plastic products using a wide range of different methods. With plastic fabrication, you can create about any product you can think of. The process has been in high demand for several years and will continue to be a popular method of production well into the future. From packaging and electronics to machinery and vehicles, plastic is used in thousands of products that we use in our everyday lives.
Companies in nearly every industry need plastic parts for a variety of applications. Jaco Products manufactures plastic products for applications such as electronic parts and medical components, to name a few. We are a leading Ohio plastic fabrication company with a team that specializes in working with temperamental materials such as thermoplastics, machined delrin, and LGF nylon. As an established plastic fabrication company, the Jaco team knows how to create high-quality, reliable products for nearly any application.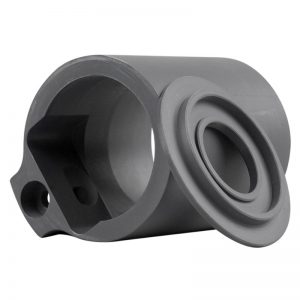 Jaco Products Plastic Fabrication Services
We are a full-service Ohio plastic fabrication company offering a variety of specialties for the plastic industry. Our Fabrication processes include cutting, bending, laser cutting, polishing, and welding. They are all done in-house to make a finished part. Our goal is to create custom solutions that fit all of your unique product specifications. Related services include:
Thermoplastic Injection Molding
Prototype Molding
Engraving
CNC Machining
Post Mold Molding
Secondary Operations
Hardware Insertion
Hot Stamping
Silk Screening
Screen Printing
Assembly
Ultrasonic Welding
Plastic Welding
Injection Molding
Tooling
Why Choose Jaco Products Plastic Fabrication Company?
Jaco Products can find a way to produce an end product for any unique specifications. Even if your application cannot be molded with its current design, material, or specifications, we'll work to get the job done. Our innovation, experience and diverse skillset and knowledge make us different than other plastic fabrication companies. With decades of experience in the industry of plastic parts, the team at Jaco Products plastic fabrication company is always available to assist with guidelines or materials and design requirements for your unique application.
At Jaco, we offer the following unique advantages:
Advanced quality control process
Vendor-managed inventory systems
Custom packaging options
Dedication to complete customer satisfaction
Long-term professional relationships
Project assistance from prototyping to the final stages of manufacturing
Advanced CNC manufacturing equipment for the fabrication of high-quality products with competitive pricing
If you've been searching for a plastic fabrication company near me, contact Jaco Products today We offer superior service and higher quality material resources when compared to our competitors. We can complete even the most challenging plastic manufacturing projects with strict application requirements. Think we can help you? Contact us today at 440-632-5800.