How Plastic CNC Machining is Done Differently at Jaco
Jaco offers plastic CNC machining services that are suitable for many products and takes pride in our ability to deliver plastic components machined to the client's exact specifications. We use state-of-the-art equipment and our team of machining experts is skilled at creating durable, high-quality parts. We have more than five decades of experience and we are capable of handling any job, high or low volume.
Our goal is to help you create the product you need from beginning to end. Our CNC plastic machining department is cost-effective, no matter the size of your project. We are able to cut plastics to meet any design requirement, from simple to complex, and we guarantee you will be satisfied with every product, every time – or we'll fix the problem.
What Is Plastic CNC Machining?
Plastic CNC machining is a manufacturing process in which pre-programmed computer software dictates the movement of factory tools and machinery. The process can be used to control a range of complex machinery. With plastic CNC machining, three-dimensional cutting tasks can be accomplished in a single set of prompts. Jaco offers the ability to create the project you have in mind, even if it is out of the ordinary.
We have equipped our machining department with a variety of abilities, including CAM programming, CAD design, and 3D programming. Our equipment is also able to process a wide variety of components and is equipped with milling heads, live tooling and sub spindles. This allows us to complete many components with fewer setups and more efficient than the traditional methods many CNC machining plastic companies still use.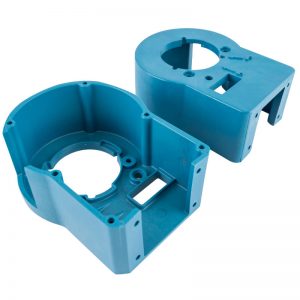 What Does CNC Stand For?
CNC is short for computer numerical control. The CNC process runs in contrast to the limitations of manual control, where live operators are necessary for prompting and guiding the commands of machining tools via levers, buttons, and wheels. A CNC machine system might resemble a regular set of computer components but the software programs and consoles employed in plastic CNC machining distinguish it from all other forms of computation.
Jaco's experience producing quality components makes it possible for us to service a variety of industries. Whether your needs are related to the automotive, marine, aerospace, military, or chemical industry, or something else entirely, we can help you create perfectly machined parts each and every time.
Furthermore, we are proud to say our service meets high industry standards and is ISO and SAE compliant. There are many benefits to working with us when it comes to CNC machining plastic, including:
In-stock materials
Products from a variety of plastics
Computerized machinery
Products annealed for maximum strength
CNC and Conventional machining facilities
Customized parts created from samples, sketches, or prints
Thorough post-machining inspections
Precision components made to your specifications
What Products Can Jaco Make with A CNC Machine?
With CNC technology, you can make almost anything from marine parts, mechanical parts to aviation parts as well as high-precision parts including shafts, gears, bushings, flywheels, cam, mold, propeller, etc.
The product that you can make on a CNC machine depends on the type of machine you are using. Each type of CNC machines has its own machining capabilities for making unique nature of components. For example, a round or spherical component producing in a CNC turning center cannot be produced in a CNC milling machine. A component that producing from a milling machine cannot be produced from a CNC lathe and so on.
Plastic Materials That We Work With
Jaco specializes in the machining of:
Delrin
Nylon 6/6, 6, 6/12
HDPE
FR-4
G-10
PEEK
Lexan/Polycarbonate
PTFE
Teflon
Udel
UHMWPE
Acrylic
Ultem
Machined Plastic Parts That Can't Be Made With Plastic CNC Machining
Almost any parts can be made on CNC machines, but there are also some limitations. Parts with some features are not suitable for CNC machining, those features are:
Inner Vertical Corner
As CNC milling tools have a cylindrical shape, when cutting the internal walls, it will leave a radius on the vertical corners. Although corner radius can be reduced by using a tool with a smaller diameter, you can't make an internal vertical corner no matter how small tool diameter you are using.
Parts with Deep Cavities
As the limited cutting length, the tools can typically work best when cutting cavities with a depth of up to 2-3 times their diameter. Milling cavities with depth more than 4x the diameter of the tool will greatly increase machining difficulties and tool breakage.
Parts with Thin Walls
The thin wall is hard to machine, it is easy to deformation or fracture during CNC machining process. Thin wall machining requires multiple passes at low cutting depths and thin features are also very prone to vibrations, so machining them accurately is challenging and increases the machining time.
Parts with Cutouts
Some cutouts that on the inner wall of the parts are difficult to make with CNC machining, because the cutting tool can't reach there to make any process.
Call on Jaco for Your Plastic CNC Machining Needs
You can count on Jaco to provide complete solutions for your custom CNC plastic machining needs.
Our reliable machining capabilities offer customers quality machined parts created by custom CNC programs, so you receive the utmost accuracy and uniformity for every finished product.
To learn more or to speak with someone about your CNC machining plastic needs, contact Jaco today!
Phone 440-632-5800 • Fax 440.632.0012