What Is G10 Material?
FR-4 glass epoxy composite laminate G10 material, commonly referred to as Micarta*, garolite or Bakelite*, is a thermoset fiberglass composite manufactured from glass filament cloth with a di-functional or tri-functional epoxy binder. It is often used in applications that require dimensional stability, electrical insulating properties, and moisture resistance.  It is used across a wide range of electrical and mechanical applications.
What Is the difference between G10 and FR-4 Machining Material?
G10 materials fall under the category of thermoset industrial laminates produced from a layered construction of substrates impregnated with a thermoset resin and cured under heat or pressure.  They fall under standards published by NEMA (National Electrical Manufacturers Association) which provide minimum values for grades of thermoset laminates.
NEMA provides two grade values for this category of industrial laminates, G10 and FR4.  The FR4 is the fire retardant grade of G10.
G10 Material Properties | G10 Material Specifications: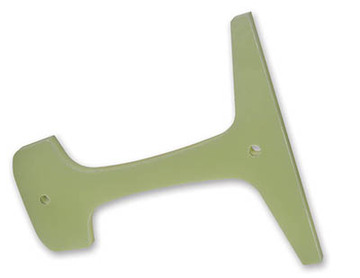 The appearance or natural color of G10 / FR4 glass reinforced epoxy is light green to yellowish laminate. The laminate is typically manufactured from continuous woven glass fabric and impregnated with an epoxy resin that provides properties ideal for electronics applications due to superior electrical insulation properties.
G-10 FR-4 glass epoxy laminate meets the following specifications:
G10 FR4 : Mil-I-24768/27 GEE-F
G10 : Mil-I-24768/2 GEE
G10 FR4 : LP 509
G10 FR4 : MIL P 18177 Type GEE
NEMA FR4
G-10 FR4 Sheets provide:
A maximum continuous operating temperature: 285°F
Excellent machinability
Excellent electrical characteristics
Low moisture absorption
Great dimensional stability (shrinkage is less than 1%)
Abrasive Texture
Good chemical resistance particularly under moist and humid conditions
Extremely high mechanical strength
Superior adhesive properties
Good dielectric loss properties
NEMA FR4 fire resistance
Commonly known as Micarta*, Garolite or Bakelite*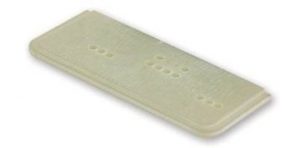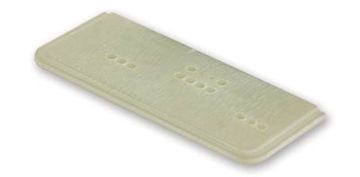 CNC Machining G10 Material
G10 FR4 sheet can be CNC machined up to +-.005 tolerance. Jaco offers G10 drilling, milling, and machining services to either cut to size to or machined to your CAD drawings. From 5-axis machining centers to routers, we can quickly and easily cut your G10 FR4 to your exact specifications. Get custom G10 machining services from the premier Ohio plastics fabricator, Jaco Products.
Unlike machining metal, machining G10 can present challenges due to the highly abrasive glass fillers. Metal machining speeds are typically too high for composites resulting in delamination. Since Jaco, specializes in plastic machining and does not machine any metal components, equipment from machine tools to dust collection, is unique to the specific requirements of machining composites, laminates and glass filled resins.
G10 FR4 Die Cut Parts
Jaco offers die-cutting services of G10 FR4 material. G10 FR4 is a very versatile laminate used as an electrical insulation material in electronics, PCBs, and mechanical lines.
G10 Material Supplier
We sell full sheets pf G10 FR4 through our materials distribution service. We offer varying thicknesses of G10 material, please contact sales department regarding available inventory.
G10 Material Applications
G10 FR4 material applications include:
Terminal boards
Washers
Sleeves
Structural components
Cryogenic components
Wear applications
Electrical applications
PCBs – Printed circuit boards
Power generation
G10 knife handles
G10 gun handles
G10 grip materials
G10 Datasheet / Technical Information
Contact our experienced technical staff for the most up-to-date copy of a G10 FR4 datasheet. Our staff is available to help you specify the right materials for your application and design the parts/components you need to meet your product requirements. Contact our technical staff today to discuss your G10 part design.
* The Micarta trademark is a registered trademark of Industrial Laminates / Norplex, Inc. (dba Norplex-Micarta / Norplex-Micarta Industrial Composites).
* Bakelite or polyoxybenzylmethylenglycolanhydride, is an early plastic. It is a thermosetting phenol formaldehyde resin developed by the Belgian-American chemist Leo Baekeland in New York in 1907.