Custom Plastic Fabrication for Your Parts
Whether you are looking for a single fabricated prototype or full-run, Jaco has the capability to meet your plastic fabrication needs. With great prices, fast turnaround, and exceptional technical support, we are the right plastic fabricator for all your needs. Plastic products are in widespread demand across all industries for diverse applications. Precision parts are used for anything from medical parts to electronic components. With decades of experience, Jaco is proud to be a top plastic fabrication company in Ohio. We specialize in both easy and hard-to-work-with materials such as LGF nylon, thermoplastics, delrin machining to lexan, polycarbonates, and acrylic. With our superior skill set, Jaco can do virtually anything with plastics; cut-to-size, mill, machine, injection mold, weld, print and assemble.
Jaco Products | Plastic Fabrication Company | Our Services
As a full-service, plastic fabrication company, we offer diverse specialties. It is our mission to solve the simplest to toughest of application challenges by creating custom plastic products to fit your specifications. Our diverse range of services includes CNC Plastic Machining and Milling, Plastic Injection Molding, Stamping & Die Cutting, Pad Printing, Assembly and more!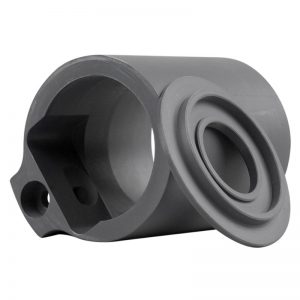 Plastic, Thermoset, and Thermoplastic Stock Cut-to-Size
We can carry a wide range of plastic sheet stock from acrylic to high-performance insulation materials that can be cut-to-size, machined cut-outs to print. For high-volume parts, we can build a steel rule die and stamp your parts out of plastic.
CNC Plastic Machining
Jaco custom plastic machining produces precision plastic fabrication prototypes and plastic components. Our state of the art plastic machine shop features complex 5-Axis CNC machining. Diverse knowledge of thermoset and thermoplastic materials allows our team of engineers to customize the right material for the right application. We offer our machining services at competitive pricing for both large and small volume projects.
Plastic Injection Molding
Our experienced staff of plastic fabricators is well-versed in all aspects of the injection molding process. From start to finish, our technical staff plays an active role in all phases of each injection molding project. For starters, we help assist with material recommendations, product design and prototype molding manufacturing. Because there is such a wide array of usable materials, it can be hard to determine which would provide for a superior design. That's where Jaco's plastic fabricators and engineers step in. As a result, this customized approach provides our clients with far superior performance and precision.
Insulation Fabrication | Mold & Platen Insulation
Reduce energy consumption and improve processing variables with Jaco mold and platen insulation. Jaco offers a variety of choices that include low thermal conductivity, cost, thickness tolerance, compression strength, and desired processing temperature. Our highly skilled technicians provide high-performing press platen insulation, mold insulation, and thermal insulation board. Additionally, we offer thermal insulation sheets. Jaco provides mold and platen insulation for 17 different materials! Find them here.
Plastic Stamping & Die Cutting
Jaco engineers custom die-cut plastics for performance and precision. We offer steel rule die stamping for capacities up to to 25 tons. This is ideal for thin-gauge insulation materials, plastics, as well as other non-metallic materials in small lots. In comparison, steel rule precision die cutting requires less initial tooling charge than stamping. Jaco's production process is cost-effective as well as extremely accurate. We meet your most critical minimum tolerance die cutting requirements using a modern, precision flatbed press. Jaco specializes in an array of materials in gauges that can undergo the die-cutting process. Our technicians work with you to select the product material that will outperform the rest.
Why We Are A Leading Plastic Fabrication Company
With consideration to the services we provide and the countless materials we fabricate, Jaco is a leader among plastic manufacturing companies. When it comes to producing precision components that some say cannot be made, we are the expert. Even if your application cannot be molded with the current design, material, or close tolerance specifications, Jaco will find a way. For example, instead, we will produce the part with a combination of plastic molding and 5-axis CNC plastic machining. It is our experience, innovation, and diverse skillset knowledge that sets us apart from competitors. For difficult plastic component manufacturing, rely on Jaco to get the job done.