Embracing Innovation in Plastics
Plastic fabrication, what is it and how does it apply in today's society? It's the design, manufacture, or assembly of plastic products through a variety of different methods. Plastic fabrication has been in high demand for many years and will continue to increase substantially. Being a field that can basically create just about anything you can possibly think of. Plastic is used in thousands of products that are used in everyday lives. From packaging, electronics, machinery, and vehicles plastic surrounds us daily. Jaco Products has the experience and excellence in the fabrication of production components and distribution of materials. With more than 60 years of experience, we have steadily built a well-earned reputation as one of the top plastic manufactures in Ohio. We can assist you with all your precision plastic prototyping, meeting challenges of engineering better solutions for the problems you face every day, as well as meeting specific plastics product needs.
High-Quality Plastic Manufacturing
There are two basic process categories for forming plastic parts: fabrication and machining.
Fabrication processes such as cutting, polishing, bending, laser cutting & welding are all done in house to make a finished part.
Machining processes include CNC machining, milling, turning, and routing to precision tolerances.
At Jaco Products, we can handle a broad range of techniques based on the material, design, and product demand.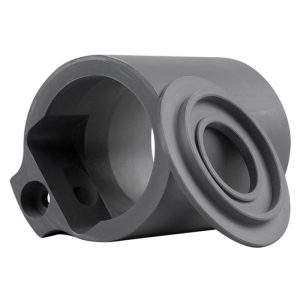 Our Fabrication Services
We are a full-service plastic fabrication company that offers a wide range of specialties for the plastic industry. Our in-house engineering team welcomes your toughest application challenges. Striving to create custom solutions to fit all your unique specifications. Related services include Thermoplastic Injection Molding, Prototype Molding, Engraving, CNC Machining, Post Mold Molding, Secondary Operations, Hardware Insertion, Hot Stamping, Silk Screening, and Screen Printing, Assembly, Ultrasonic Welding, Plastic Welding, and Injection Molding Tooling.
CNC Plastic Machining
Computerized Numerical Control (CNC) Machining. This method is used to perform a wide range of manufacturing tasks, which are all carried out by computerized devices. With our unparalleled knowledge of thermoset and thermoplastic engineered materials and our machining capabilities include 5-axis machining, routing, milling and turning with precision tolerances of .0001″. Additionally, with our constant investments in state-of-the-art equipment which benefits us to handle high tolerance requirements, as well as small and large volume projects at competitive pricing.
Plastic Injection Molding
This is a shape-forming process in which melted plastic is forced into a mold cavity and squeezed under pressure. Once the plastic has cooled, the object is released and then the process begins all over again. Injection molding is employed mainly in the production of solid objects. We offer custom injection molding of thermoplastic materials up to 29 oz.
Mold & Platen Insulation
Controlling the transfer of heat to the production press with high-performance thermal insulation will reduce your energy consumption and improve your processing variables. Our technicians provide high-performing press platen insulation, mold insulation, and thermal insulation board. Additionally, we offer thermal insulation sheets. Jaco provides mold and platen insulation for 17 different materials! Find them here.
Stamping & Die Cutting
Plastic stamping significantly reduces material cost, while increasing production rates and improves the overall dimensional consistency when used in place of machining to create custom parts and components. We are the top leading plastic Die-cutting supplier to the electrical insulation industry. From the most intricate parts to the tightest tolerances and specifications, we can provide the right assistance for a successful die-cut project.
What Sets Us Apart From Our Competitors?
Honestly, it's simple – the word "cannot" does not exist in our vocabulary. If the production of precision components that competitors say cannot be made, here at Jaco we will find a way to produce an end product. Even if your application cannot be molded with the current design, material, or close tolerance specifications, Jaco will get the job completed. It is our experience, innovation, and diverse skillset knowledge that sets us apart from competitors. For difficult plastic component manufacturing, rely on Jaco to get the job done. Call Jaco Products today to request a quote for design and prototypes for all your plastic fabrication needs. Jaco has extensive experience in plastic parts and we are always available to discuss materials and design requirements. Let us provide you with guidelines to assist with your unique application.Think we can help you? Contact Jaco today to learn more. Give us a call 440-632-5800 fax 440.632.0012. Companies in virtually every industry are constantly in need of plastic products for varying applications. Jaco Products develops plastic products for applications ranging from electronic parts to medical components. We are a leader among plastic manufacturing companies. Our team specializes in working with typically temperamental materials such as thermoplastics, LGF nylon, and machined delrin. Furthermore, we offer decades of experience in the industry. As an established plastic manufacturing company, we know the ins and outs of creating high-quality, reliable products, so you can trust us to create any plastic component you need for nearly any application.