Custom Engineered Plastic Stamping Components
Jaco, a leader among plastic stamping manufacturers, provides custom plastic stamping of non-metallic production components. Our plastic stamping presses range from 18 thru 60 ton, which allows Jaco to stamp up to the maximum thickness possible from Micarta® high-pressure laminates, polyester, nylon and a broad range of electrical insulating materials. Jaco supplies custom plastic parts for a variety of industries – from aerospace to small appliance manufacturers.
High-speed precision die and stamping presses combined with our knowledgeable technical staff allow us to provide the highest quality stamped plastic components in the shortest time possible and offer them at a competitive price. When precision is paramount, rely on Jaco Products.
Plastic Stamping Manufacturers Precision Plastic Stamping Products
Electrical Insulator Components

Heavy-gauge Plastic or Laminate Gaskets

High-volume Plastic Production Components

Custom Stamped Plastic Production Components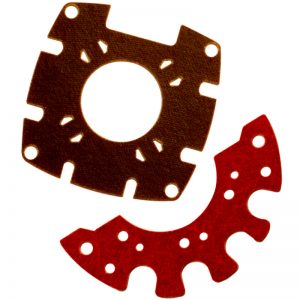 Custom Engineered Electrical Insulator Products
As a leading precision stamping products supplier to the electrical insulation market, Jaco's staff is unparalleled in their knowledge of insulator materials and the plastic stamping process. From the most intricate parts to the tightest tolerances and specifications, we can provide the right assistance for a successful project.
Jaco's high-tech processing provides precision die and stamping components you can count on – consistently superior products.
Specialty Non-Metallic Washers, Gaskets and Seals
At Jaco, we are able to manufacture any specialty plastic or non-metallic washer, gasket or seal that you require. Our extensive inventory of washer dies, allow us to quickly respond to your custom non-metallic washer application.
Non-metallic gaskets are a core focus of Jaco's services. Through our large inventory of stock materials, we are positioning ourselves as a leading gasket manufacturer offering shorter lead-times and outstanding service. Whether you need a silicone gasket or any other type of non-metallic, laminate or plastic gasket, consider Jaco as your gasket manufacturer. Our goal is to provide you with quality parts at competitive prices.
Matched Metal Stamping Dies Progressive Dies and Compound Dies
Jaco has in house capability to build and design a matched metal stamping die. We also maintain most stamping dies for the life of the production component. Our experienced staff is available to assist you with your stamping projects. Our extensive knowledge of engineered materials allows us to identify the lowest possible cost for your stamped plastic components. Our knowledge of precision dies and stamping allows us to design the right dies – progressive or compound – to achieve precision tolerances. When invited to participate in your plastic stamping project, from the start, our technical staff can assist with material recommendations, part design and prototypes.