Choosing the Right Plastic Company
CNC Machining or 3-D Printing? | Jaco Leads the Way Among Plastic Manufacturing Companies
Have you and your team been planning to use custom plastic parts for your next project? If you want to partner with the most effective partner company for the job, then you will need to set aside some time to determine project goals and research potential partner plastic manufacturing companies. When you take your time with the planning process, you can benefit from the most cost-effective results possible.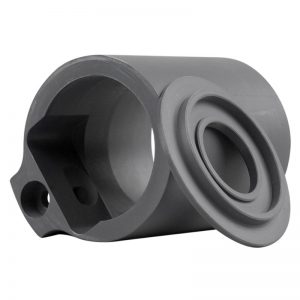 For example, you should evaluate a company's compatibility with your specific industry. Do you have access to perspectives from past customers whether through your own network or through online reviews? Are you able to learn about a company's history with your field through an online portfolio of past projects?
Communication is another critical factor to consider when looking for plastic manufacturing companies. Can you connect with quality assurance and customer service representatives easily? Is a company's website both up to date and responsive? Overall, effective communication is a priority for reliable plastic machining companies.
If possible, you should visit a potential partner's facility and meet with a team in person. This will help you gain a general understanding of a company's design and manufacturing processes as well as its communication style.
CNC Machining or 3-D Printing?
When it comes to getting the most cost-effective results possible from an investment in custom plastic parts, it's all about choosing the right fabrication method. Many teams must choose between computer numerical control (CNC) plastic machining and 3-D printing, for example. When you set aside the time to compare your options, you can make the most impactful investment possible.
CNC machining refers to the digitized cutting of plastic from a piece of bulk material to form a custom component. On the other hand, 3-D printing is an additive manufacturing method that involves the computerized sequential layering of plastic build material.
You may benefit most from 3-D printing if your team's primary considerations include both cost and environmental sustainability. Overall, this plastic fabrication method is more affordable for smaller runs and produces minimal waste material. However, CNC machining may be the ideal solution for your project if it requires both tight tolerances and geometric complexity.
For many companies, Jaco Products has been a go-to resource for CNC plastic machining services. Reach out to the CNC machining experts from Jaco Products today to find out how the team could add to your next project.
Among Plastic Manufacturing Companies, Jaco Products Leads the Way
If you and your team have been trying to choose between plastic manufacturing companies for your next project? If so, then you can feel confident in collaborating with Middlefield, Ohio's Jaco Products. Jaco Products has provided industry-leading plastic fabrication services for more than seven decades.
In fact, the company serves client businesses across a wide range of industries. Significantly, the Jaco Products team maintains the most current in manufacturing technologies to ensure the highest levels of both product quality and customer satisfaction.
Customers count on Jaco Products for a one-stop-shop for premier plastic machining, injection molding, both mold and platen insulation and die-cutting capabilities. In addition, the company distinguishes itself through the fabrication of an extensive range of plastic materials. To list, Jaco Products customers have access to premier PBT, PEEK, UHMW, polycarbonate, Plexiglas® and Udel fabrication capabilities, for example. If you and your team have been looking for high-quality plastic customization, then take the next step with the professionals from Jaco Products.
Plastic Product Manufacturing: Find the Best Near Me
Plastic product manufacturing is the process of creating various plastic products through injection molding, blow molding, or extrusion. This industry has grown significantly over the years due to the versatility and durability of plastic products. Plastic products are used in a wide range of industries, including automotive, construction, packaging, and consumer goods. The manufacturing process involves melting plastic pellets and injecting them into a mold to create the desired shape. The quality of the plastic product depends on various factors such as the type of plastic used, the design of the mold, and the expertise of the manufacturer. It is essential to choose a reputable manufacturer who can provide high-quality products that meet your specific needs. Understanding the manufacturing process and key factors to consider can help you make an informed decision when choosing a plastic product manufacturer.
Tips for Finding the Best Plastic Product Manufacturing Near You
Plastic product manufacturing is a complex process that requires specialized knowledge and equipment. When looking for the best manufacturer near you, it's important to consider several factors. First, research the company's experience and expertise in your specific industry. Look for reviews and testimonials from previous clients to gauge their reputation. Second, consider the location of the manufacturer. While a local manufacturer may offer convenience, a national manufacturer may have more resources and capabilities. Third, ask about their production capacity and turnaround time to ensure they can meet your needs. Finally, don't forget to inquire about their pricing and any additional services they offer, such as design or prototyping. By taking these factors into account, you can find the best plastic product manufacturer for your business needs.
Key Factors to Consider When Choosing a Plastic Product Manufacturer
Location and Proximity: How to Choose a Plastic Manufacturer Near You
When it comes to choosing a plastic product manufacturer, location and proximity should be one of the key factors you consider. Working with a local manufacturer has its benefits; for starters, you can save costs on shipping and logistics. Additionally, being in close contact with your manufacturer makes communication easier and more effective. If any issues arise during the manufacturing process, you can easily visit the facility or have someone from your team drop by to monitor progress. Above all else, it's important to choose a reputable company that values quality workmanship and customer satisfaction regardless of their location.
Customization and Design Capabilities: Finding a Manufacturer that Meets Your Needs
When it comes to plastic product manufacturing, finding a manufacturer that offers customization and design capabilities is paramount. Consider the level of expertise and technology available at a company before making your decision. Look for manufacturers with experience in creating products similar to what you need, as well as those who can aid in optimizing your designs for better performance and cost efficiency. Keep an eye out for companies that offer prototyping services or have extensive tooling capabilities — these are often good indicators of strong custom manufacturing abilities. Choosing a partner with these key features will allow you to create high-quality, customized plastic products that meet your unique needs.
Pricing and Lead Times: Balancing Cost and Efficiency in Plastic Manufacturing
Some important factors to consider when choosing a plastic product manufacturer are pricing and lead times. It's essential to find a balance between cost-effectiveness and efficiency, ensuring you're getting the best value for your money without sacrificing quality. Look for manufacturers that offer competitive prices while also delivering on-time delivery schedules. Additionally, it's crucial to work with manufacturers who can provide accurate quotes based on detailed project specifications and have transparent pricing policies. By prioritizing these key factors, you'll be able to choose a reliable plastic product manufacturer that meets all of your manufacturing needs at an affordable price point.
How to Evaluate the Quality of Your Plastic Products
Durability and Strength: The Key Factors to Check in Your Plastic Products
When evaluating the quality of your plastic products, durability and strength are two key factors to check. Look for any signs of wear and tear, such as cracks or deformities, which could indicate poor manufacturing practices or subpar materials. Also, consider the intended use of the product and whether it can withstand potential stresses or impacts in that environment. Testing methods like tensile strength measurement also help ensure that your plastic parts meet industry standards for quality performance over time. By focusing on these important factors, you can trust that your plastic products will be able to endure regular use without breaking down prematurely.
Understanding the Importance of Material Selection for Top-Quality Plastic Products
When it comes to producing high-quality plastic products, material selection is key. The type of plastic used can greatly impact the durability, strength, and overall performance of the product. It's important to choose a manufacturer that uses top-quality materials and has a thorough understanding of their properties. Look for manufacturers that use materials such as high-density polyethylene or polypropylene, which are known for their strength and durability. Additionally, consider the manufacturing process used, as this can also affect the quality of the final product. By choosing a manufacturer that prioritizes material selection and uses advanced production techniques, you can ensure that your plastic products will meet your exact specifications and exceed your expectations.
Consistency and Accuracy: How to Ensure Quality Control Standards are Met
Consistency and accuracy are crucial when it comes to evaluating the quality of plastic products. To ensure that your product meets industry standards, look for a manufacturer that adheres to strict quality control measures throughout every stage of production. This includes inspecting raw materials, monitoring manufacturing processes, and testing finished products before they leave the facility. Key phrases like "quality control" and "industry standards" should be at the forefront of your mind when choosing a manufacturer. By opting for a provider with proven consistency and accuracy in their workmanship, you can rest assured that your plastic products will meet or exceed expectations every time.
Customization Options for Your Next Injection Molding Project
Injection molding projects offer a high level of customization for plastic products. The process involves melting plastic pellets and then injecting them into a custom mold to create the desired shape. With injection molding, you have control over several aspects of your product such as its size, color, texture, and overall design.
In addition to creating unique products with injection molding, manufacturers can also add different finishes or textures to the surface of the product. Some popular options include high gloss finishes, matte finishes, and textured surfaces that mimic wood or stone.
When working on an injection molding project with a manufacturer, it's important to discuss your specific needs in detail so that they can create prototypes for your approval before moving forward with production. This will ensure that your final product meets all necessary specifications and is tailored exactly to your needs.
Overall, injection molding provides endless possibilities for customization when it comes to manufacturing plastic products. By partnering with a reputable manufacturer who specializes in this technique, you'll be able to achieve precisely what you need for any given project.
Essential Questions to Ask Before Choosing a Manufacturer
Choosing a plastic product manufacturer is crucial to the success of your project. Before making any commitments, make sure to ask these essential questions: Do they have experience in your industry? What materials do they specialize in? Are they equipped with the latest technology and machinery? How do their prices compare to other manufacturers?
Another important consideration is communication. Will you be able to easily communicate with them throughout the production process? Do they provide regular updates and progress reports?
It's also worth checking their certifications and quality control processes. A reputable manufacturer should be ISO certified and have strict quality control measures in place.
Finally, don't forget about logistics. Make sure the manufacturer can handle your required volume within your timeline. Can they ship internationally if needed? And what are their shipping costs like?
By asking these crucial questions, you'll ensure that you find a trustworthy and reliable plastic product manufacturer for your next project.