Choosing the Right Plastic Company
CNC Machining or 3-D Printing? | Jaco Leads the Way Among Plastic Manufacturing Companies
Have you and your team been planning to use custom plastic parts for your next project? If you want to partner with the most effective partner company for the job, then you will need to set aside some time to determine project goals and research potential partner plastic manufacturing companies. When you take your time with the planning process, you can benefit from the most cost-effective results possible.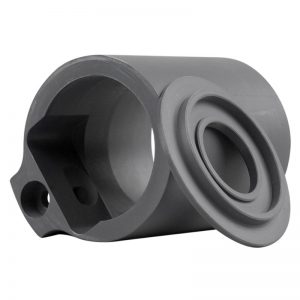 For example, you should evaluate a company's compatibility with your specific industry. Do you have access to perspectives from past customers whether through your own network or through online reviews? Are you able to learn about a company's history with your field through an online portfolio of past projects?
Communication is another critical factor to consider when looking for plastic manufacturing companies. Can you connect with quality assurance and customer service representatives easily? Is a company's website both up to date and responsive? Overall, effective communication is a priority for reliable plastic machining companies.
If possible, you should visit a potential partner's facility and meet with a team in person. This will help you gain a general understanding of a company's design and manufacturing processes as well as its communication style.
CNC Machining or 3-D Printing?
When it comes to getting the most cost-effective results possible from an investment in custom plastic parts, it's all about choosing the right fabrication method. Many teams must choose between computer numerical control (CNC) plastic machining and 3-D printing, for example. When you set aside the time to compare your options, you can make the most impactful investment possible.
CNC machining refers to the digitized cutting of plastic from a piece of bulk material to form a custom component. On the other hand, 3-D printing is an additive manufacturing method that involves the computerized sequential layering of plastic build material.
You may benefit most from 3-D printing if your team's primary considerations include both cost and environmental sustainability. Overall, this plastic fabrication method is more affordable for smaller runs and produces minimal waste material. However, CNC machining may be the ideal solution for your project if it requires both tight tolerances and geometric complexity.
For many companies, Jaco Products has been a go-to resource for CNC plastic machining services. Reach out to the CNC machining experts from Jaco Products today to find out how the team could add to your next project.
Among Plastic Manufacturing Companies, Jaco Products Leads the Way
If you and your team have been trying to choose between plastic manufacturing companies for your next project? If so, then you can feel confident in collaborating with Middlefield, Ohio's Jaco Products. Jaco Products has provided industry-leading plastic fabrication services for more than seven decades.
In fact, the company serves client businesses across a wide range of industries. Significantly, the Jaco Products team maintains the most current in manufacturing technologies to ensure the highest levels of both product quality and customer satisfaction.
Customers count on Jaco Products for a one-stop-shop for premier plastic machining, injection molding, both mold and platen insulation and die-cutting capabilities. In addition, the company distinguishes itself through the fabrication of an extensive range of plastic materials. To list, Jaco Products customers have access to premier PBT, PEEK, UHMW, polycarbonate, Plexiglas® and Udel fabrication capabilities, for example. If you and your team have been looking for high-quality plastic customization, then take the next step with the professionals from Jaco Products.