Injection Molded Delrin Enclosure for Blasting
A supplier of electronic enclosures to the blasting industry called on Jaco with a demanding application. That demanding application required the injection molding of Delrin plastic.
Injection molded Delrin product specifications overview:
Required tolerance ± 0.005″

Tool-free assembly in the field

Enclosure is molded in various colors

Enclosure must not crack when dropped from 5 feet

Enclosure to be held to a flatness spec of .005″ on the sealing edge

Jaco designed an automatic stop to ensure over-tightening will not cut through the gasket.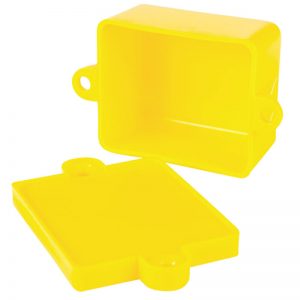 The application called for a two-part injection molded Delrin enclosure and a die-cut gasket. Specifications include electrical isolation, flexural strength, and most importantly the ability to remain waterproof at depths of ten feet or more. During the prototype stages, the customer added an additional specification. Accordingly, this called for the enclosure to be field serviceable without the use of special tools.
Jaco achieved this specification by adding external ribs to the enclosure to ensure strength and to retain a castle nut. This allowed the user to service the enclosure in the field without the need for special tools.
Through prototyping and field-testing, we were able to supply an enclosure that met the customer's specifications. As a result, the enclosure is currently being injection molded in a two-part family mold using Dupont's Delrin 100. Furthermore, this component is molded under strict guidelines to ensure part integrity and a waterproof enclosure. To aid in waterproofing, Jaco provides a die cut gasket that makes the seal between the lid and the enclosure.
Contact Jaco to learn more about our capabilities for Delrin machining and Delrin plastic injection molding.