Plastic Manufacturing Companies
Plastic manufacturing companies must put their client's priorities first and that's what we do at Jaco. We find ways to help you make your jobs easier, faster, better, and more affordable. Whether we are helping you with precision plastic prototyping, engineering better solutions for the problems you face every day, or working on a specific plastics product, we provide quality products and top-notch customer service. That's why were a leader in plastic manufacturers in Ohio.
Jaco is a plastics manufacturer with more than 50 years of experience. We have consistently built our reputation on experience and excellence in the fabrication of production components and distribution of materials. Our goal is to make sure clients are happy with the product we supply, no matter what that means.
Services from Plastic Manufacturing Companies
We offer a variety of services, including:
Plastic CNC machining
Production machining
Prototype machining
Engraving
Secondary operations
Post mold molding
Hardware insertion
Assembly
Ultrasonic welding
Silk-screening
Screen-printing
We source the best thermal insulation materials for each and every product. Our comprehensive selection includes:
Glastherm Thermalate
Brandenburger® S-4000 Calcium Silicate
Isomag
Glass Reinforced Laminate
Mica
Zicar
Pyropel
Precision Plastic Machining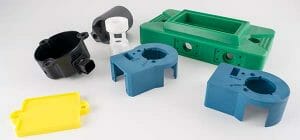 We take pride in our precision plastic machining of a prototype and the production of plastic components. Jaco uses state-of-the-art CNC machining centers that enable us to handle modern-day machining demands.
We offer custom stamping of plastic production components, too. Our plastic stamping presses range from 18 to 60 tons, so we are able to stamp up to the maximum thickness from high-pressure laminates, polyester, nylon and a broad range of electrical insulating materials.
We supply custom plastic parts to a variety of industries, ranging from appliance manufacturers, to aerospace, to the medical industry and military. Jaco uses a combination of our experience and state-of-the-art tools to give our clients the best experience and the best product. From our high-speed precision diet and stamping presses to our more than five decades of experience, we provide the highest quality plastic components as efficiently as possible and within your budget. When precision is a necessity, you can rely on Jaco.
To learn more about what plastic manufacturing companies can do for you or to discuss the details of an upcoming job, contact Jaco.