Get Precision Plastics Parts Made in America
Whether you need premium injection molding, plastic stamping, or other plastic distribution services, having reliable plastic manufacturers near me is an important part of running a business that relies on the plastics industry.
If your company or business is comparing plastic manufacturers near me and considering which would be the best choice for the continued success of your business, you've come to the right place. Jaco Products provides much more than just plastic supply to its consumers. We have a variety of services and high standards that make us an industry leader in plastic manufacturing. Form simple parts to complex, high volume projects, we can take your project from start to finish. 
Don't just take it from us. Let's talk about some of the services and standards that have earned Jaco Products the reputation as a trusted plastic manufacturer in Ohio.
Services Offered By Jaco Products
Depending on what your business provides, your plastic manufacturing needs may vary. Luckily, Jaco uses high-grade machinery and proven processes for all of our services. From injection molding to mold and platen insulation, we get you your products on time, and at a competitive rate. The best part? We provide the highest quality. Just because we offer our customers convenience, doesn't mean we sacrifice our standards. 
No matter the complexity of your part or project, we can get the job done. When other plastic manufacturers near me say they "won't quote" your project, Jaco will. Take a look at some of the services we offer.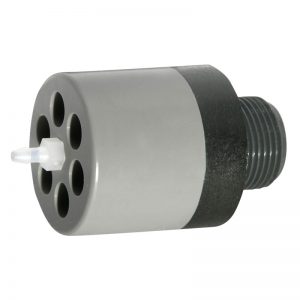 Plastic Machining
Here at Jaco, we offer quality plastic machining services for standard parts and advanced, customized materials. At every step of the machining process, we ensure that our product is up to standard and capable of performing at a high level. 
Jaco offers CNC plastic machining, which stands for "Computerized Numerical Control." This means that this equipment automates fabrication tasks when needed. CNC machining is known as one of the most precise plastic fabrication methods and it allows for high-volume production of complex plastic parts.
Because we pride ourselves on innovation and quality, Jaco is fully equipped to meet projects with the highest tolerance requirements. Furthermore, we offer quick turnaround on these projects, even if you need a large volume. It's these high standards that set us apart from other plastic manufacturers near me, and make us a top choice when you need CNC machining or other plastic services.
Plastic Stamping and Die Cutting
We offer plastic stamping of non-metallic production components. Our stamping ranges from 18 through 16 tons, which means we can stamp up to the maximum thickness possible. Because of the range this service provides, Jaco serves a variety of industries, from aerospace technology to small appliance manufacturers. No project is too big or too complex for our team.
Our team has an in-house facility capable of building and designed a matched metal stamping die. We maintain most stamping dies for the life of the production component, and throughout your project our staff is there every step of the way to answer questions. 
Due to our stamping capabilities, we can design the proper dies (progressive or compound), and achieve precision tolerances your team needs. From initial recommendations, through prototypes, and to the finished product — the Jaco team has got you covered.
Plastic Injection Molding
Need plastic manufacturers near me to tackle a complex injection molding project? Jaco is the answer.  We offer custom injection molding of thermoplastic materials up to 29 oz, and we have built a reputation for taking on projects that others "No Quote."
Jaco has the ability to mold high-temperature materials like Ultem and Polysulfone. This means that, if your project uses intricate parts with tight tolerances, there's no need to worry if you can get a manufacturer to take it on. You can trust that our experts have a thorough understanding of insulator materials, plastic injection molding, and electrical insulator design.
What's The Jaco Process?
There's a reason that we're known as one of the leading plastic manufacturers near me. Jaco Products began in 1948 as a plastic molding company dedicated to mastering precision plastics and molding technology. Since then, we have worked toward our mission of providing world-class custom plastic injection molding services to any and all industries that need it.
Jaco has in-house facilities for tool design, CNC machining, and fixture manufacturing, which means we perform much of our operations from a single location. We like to call ourselves a "one stop shop: for your custom injection molding needs. We also utilize computer-aided manufacturing CAM and CAD to facilitate our manufacturing. Our capabilities mean our product gallery is vast, and throughout our years as a business we've aided a multitude of industries. 
Though our services differ, the backbone of the Jaco process is teamwork and expertise. We want to offer customers much more than a "service." We want you to experience what Jaco Products has to offer, which includes a friendly staff with years of knowledge about plastic manufacturing. As we take your project from start to finish, we want you to ask questions along the way, and learn more about our processes. We want you to have a pleasant experience with our staff and technology, no matter the size or scope of your project.
Why Jaco Products?
Why do industries trust Jaco Products as one of the top plastic manufacturers near me? Not only do we provide a variety of plastic manufacturing services, but we are constantly innovating to tackle your most specific project needs.
In addition, Jaco Products is proud to provide quick turnaround times at a competitive price. We want to ensure you get the quality of products you need at an affordable rate, and we are proud to offer just that.
From plastic molding to complex materials, Jaco's knowledge and experience makes us an industry leader. Come see for yourself and give us a call today!
Plastic Materials That Can Be Machined
CNC Machining Materials:
Delrin
Nylon 6/6, 6, 6/12
HDPE
FR-4
G-10
PEEK
Lexan/Polycarbonate
PTFE
Teflon
Udel
UHMWPE
Acrylic
Ultem
Injection Molding Materials:
Acrylonitrile Butadiene Styrene (ABS)
Acetal; Celcon, Delrin injection molding
Polyamide: Nylon 6/6; Zytel injection molding
Polyamide: Nylon 6/6, glass filled LGF nylon injection molding
High Density Polyethylene (HDPE)
Low Density Polyethylene (LDPE)
Polycarbonate (PP) Lexan, Makrolon
Polycarbonate/ABS Alloy
Polyetherimide: Ultem injection molding
Polyetherimide, fiber reinforced; Ultem
Polybutylene Terephthalate; Valox, Crastin
Polypropylene: Maxxam, Profax
Polystyrene: Styron
High-Impact Polystyrene: HIPS
Thermoplastic Elastomer: Isoplast, Santoprene Acrylic; Plexiglass, Acrylite
Stamping Materials:
Nomex®
Mylar®
Polyester
Kapton®
Polyamide Film
Vulcanized Fiber
FR-4
GPO-1
GPO-2
GPO-3
SG-200
HST II
Ultratrac®