Precision Plastic Manufacturing Near You
Plastic manufacturers in Ohio must put their customer's priorities at the forefront of everything they do. At Jaco, we find ways to help make the work you do easier, faster, and better. Whether you need precision plastic prototyping or assistance with engineering better solutions for your everyday problems, we provide quality products and top-notch customer service. As a full-service plastic manufacturer offering injection molding, plastic machining and stamping, we can offer the best process for your product design over the other plastic companies in Ohio.
Industries nationwide rely on plastic fabricated products for their manufacturing process daily. Jaco Products is one of the top plastic manufacturers in Ohio.
Jaco has more than 50 years of experience as a plastics manufacturer and we have worked hard to consistently build our reputation and experience in the fabrication of production components and distribution of materials. We want to make sure clients are happy with the products we supply, no matter what we need to do to achieve that satisfaction.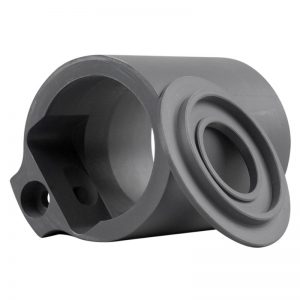 Plastic Manufacturing Services
Thermal Insulation Materials
We begin by sourcing the best thermal insulation materials to ensure each product is made from the best quality materials. This includes:
Glass Reinforced Laminate
Brandenburger® S-4000 Calcium Silicate
What Makes Us A Top Choice For Plastic Manufacturers in Ohio?
Not only do we prioritize quality thermal insulation materials, but the Jaco team is proud to offer a range of services that make us a top choice for plastic manufacturers in Ohio.
Take a look at some of our quality services that can take your project from start to finish.
Plastic Injection Molding
Plastic injection molding is a common tactic for creating plastic parts. Injection molding refers to the process of reshaping melted plastic materials by putting it into a cavity and applying pressure. What this does is shape the plastic into the necessary form, and then once the plastic cools the process can be repeated.
CNC Plastic Machining
This is a precise plastic fabrication method to maximize efficiency. This machining process lets us produce a high volume of complex plastic parts, a difficult process made simple thanks to CNC plastic machining. 
Because we are driven toward innovation, we have the latest tools needed to improve plastic fabrication. We can meet your highest tolerance needs and get you a quick turnaround on a project, no matter the volume.
Need plastic stamping and die cutting for your next project? We've got it. These two processes are known for being efficient machining methods. Due to their efficiency, these processes minimize overall cost, improve production, and give you an optimal dimensional uniformity. 
Electrical insulation companies know they can count on the Jaco team when they need stamping and die cutting.
Mold and Platen Insulation
Jaco's mold and platen insulation is another popular method that our clients enjoy. This insulation process controls how heat transfers to production presses. What does this mean? It means that energy is saved and processing variables are enhanced, thanks to this innovative technique.
When it comes to mold and platen insulation services, we offer high-quality products in 17 separate materials. We can meet the requirements of your application.
Plastic Materials Distribution
Our plastic materials distribution is top-of-the-line. The Jaco team uses the finest materials in the plastic market to make all of our parts and components. It's what makes us a leading plastic manufacturer in Ohio. 
We carry thermoset and thermoplastic materials, and offer you a wide selection so you can find what's right for your application. Even if you are unsure of what material would work best, we have a group of experts at Jaco who are willing and eager to help you.
Plastic Manufacturers in Ohio Offer Results You Want
As a leading plastic manufacturer in Ohio, we have perfected our processes to work for you. Whether you need injection molding, quality plastic materials, die cutting, and more, we've got you covered. You'll find the service you need when you partner with the Jaco team.
At Jaco, we take pride in the work we do – from our precision plastic machining of a prototype to the production of plastic components. We utilize state-of-the-art CNC machining centers that can handle the demands of modern-day job requirements.
We offer custom stamping of plastic production components and we are able to stamp a variety of materials. Whether you are working with high-pressure laminates, nylon, polyester, nylon or any of the numerous electrical insulating materials.
We have worked to build consistent and mutually beneficial relationships with a variety of clients. Our experience includes working with manufacturers in the appliance, aerospace, military, and medical industries. This combination of vast experience and state-of-the-art tools allow us to provide the best possible product each and every time. You can depend on the highest quality plastic components available at a cost that meets your budget needs when you work with us.
If other plastic fabrication companies have refused to manufacture the product you are searching for due to challenging applications or requirements, contact Jaco Products today! Jaco's in-house engineers welcome these complex challenges. Including, difficult situations where the part cannot be molded with the existing design. You can rely on Jaco to find the solutions to complete your project. With over seventy years of experience in machining and innovation, Jaco delivers the expertise necessary for meeting any client's specifications.
To learn more about one of the best plastic manufacturers in Ohio or to discuss the details of an upcoming job, contact Jaco. 440-632-7096 • fax 440.632.0012.