Steel Rule Die-Cut Plastic Production Components
Jaco offers a full range of performance-driven, custom die-cut plastic components. We offer steel rule die stamping capacity to 25 tons, which is ideal for thin-gauge insulation materials, plastics and other non-metallic materials in small lots. Steel rule precision die cutting has a lower initial tooling charge than stamping.
We can meet your most critical minimum tolerance die cutting requirements through our cost-efficient production process using modern precision flat bed press. We offer a wide array of materials in gauges that can undergo the die-cutting process; our technical staff can discuss application of your plastic die-cutting project with you in order to determine a superior design, thus providing quality parts that perform, all at a competitive price.
Precision Die Cutting Services include:
NEMA Std. Electrical Insulator Components
Thin-gauge Plastic or Laminate Gaskets
Low-volume Plastic Production Components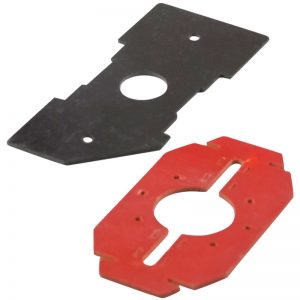 Custom Die-Cut Electrical Insulator Products
NEMA Std., UL Approved Materials
As a leading plastic Die cutting supplier to the electrical insulation market, Jaco's staff is unparalleled in their knowledge of insulator materials, the plastic stamping process and electrical insulator design. From the most intricate parts to the tightest tolerances and specifications, we can provide the right assistance for a successful die-cut project.
Specialty Die-Cut Gaskets and Seals
At Jaco, we are able to manufacture any specialty die-cut plastic or non-metallic gasket or seal that you require.
Non-metallic gaskets are a core focus of Jaco's services. Through our large inventory of stock materials, we are positioning ourselves as a leading gasket manufacturer offering shorter lead-times and outstanding service. Whether you need a silicone gasket or any other type of non-metallic, laminate or plastic gasket, consider Jaco as your gasket manufacturer. Our goal is to provide you with quality parts at competitive prices.
Steel Rule Dies
From your electronic data, we can quickly deliver a cost-effective steel rule die for your stamping project. Our extensive knowledge of steel rule dies allows us to develop the right die for the volume and tolerances required by the product. When invited to participate in your plastic die cutting project, from the start, our technical staff can assist with material recommendations, steel rule die design and prototype production.
Click Here for Materials Selections