Superior Low Cost CNC Machined Nylon Parts
The customer was looking to lower their cost on this machined nylon part. Their current supplier was challenged by the interconnecting internal passages that required an internal tolerance of ±0.001″. Machined from MC901 nylon, the part is used in water purification equipment and the tolerance of the interconnecting internal passages is critical to the performance of the product.
Jaco was successful at both lowering the part cost and achieving the required tolerances consistently part to part.
Jaco's expertise in the machining of complex plastic parts is unparalleled in the industry. Jaco does not machine metal or alloys but focuses strictly on thermoplastics, thermosets and engineered resins, a focus and level of experience that cannot be found anywhere else.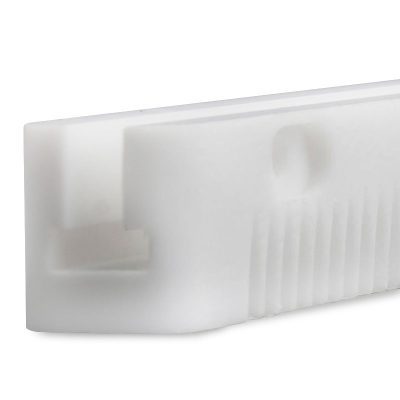 Give Jaco the opportunity to review your machined plastic part. Rest assured their knowledgeable staff will find a way to lower the cost using advanced CNC plastic machining and custom plastic injection molding techniques while also increasing part consistency and quality.
What Are The Perks of Nylon?
Nylon is a thermoplastic that is resistant to pH changes caused by thermal changes, as well as solvent-resistance. This is advantageous in industries that deal with petrochemicals, where parts made from fluoropolymers are exposed to gas bursts, oil leaks, or detergents.
Furthermore, nylon (PA) has a high degree of crystallinity, which results in a stronger and more strain-resistant component. Additionally, nylon reduces lubrication needs, dampens sound, and eliminates galling, corrosion, and pilferage.
Nylon Machining Process
Annealing Nylon
Annealing is a heat treatment that reduces the hardness of a material and increases ductility in order to improve its machinability.  In the annealed and stress-relieved state, nylon is less likely to develop surface cracks and internal stresses while being cut.  
Machining Nylon
Due to its strength, toughness and dimensional stability, nylon is easy to machine and offers tight tolerances. Due to these traits, machining nylon is quite similar to machining metals. As with all thermoplastics, nylon will deform if held too tightly, as it yields easily. The nylon part should also be kept cool and well supported. To achieve optimum surface finishes and close tolerances, non-aromatic, air-based coolants are recommended. Coolants have the additional benefit of extending tool life as well, helping to keep production costs low. 
Nylon (PA) is a material that may be made into industrial equipment components such as piping and tubing, valves, gears, nozzles, and wear pads, among others. It can also be combined with other materials, helping customers develop new product classes with utility that goes beyond their original applications.
Preventing Contamination
When it comes to machining polymer components for technical industries such as aerospace sciences, contamination is a major concern. For the highest level of sanitation down to the sub-molecular level, it is advised to heat-treat, and machine plastic parts only. As a result, we are able to eliminate the risk of metallic contamination in the process.
Other Plastic Materials We Work With
Jaco specializes in the machining of:
Delrin
Nylon 6/6, 6, 6/12
HDPE
FR-4
G-10
PEEK
Lexan/Polycarbonate
PTFE
Teflon
Udel
UHMWPE
Acrylic
Ultem