Precision Plastic Machining Company
Jaco is a top leading plastic machining company located in Ohio, servicing many industries across the United States. Here at Jaco, we understand that your job depends on custom machined plastic products meeting the requirements of your designs. Providing you with the parts you need, including quick production runs, competitive prices, and on-time deliveries.
Jaco is a plastic machining company that understands the plastic machining process is different than metal machining. We consider the work we do an art. Jaco offers a wide range of plastic materials and uses state-of-the-art equipment and techniques. Our machining capabilities deliver high-performing plastic products with tight tolerances in a timely manner.
Our goal is to design and manufacture the best possible custom plastic component to meet your needs. When your business needs high-quality custom machined plastic parts, you can trust Jaco Products to deliver.
Plastic Machining Services Above the Competition
Staying ahead of the competition means using the latest in technology and materials for each industry we serve. Working closely with our customers, from the prototype stage all the way through end production. Therefore, providing you the best product and ensuring you are 100% satisfied with the quality of your product.
Our goal is to be your number one source as your plastic machining company. This is why we utilize the latest CNC plastic machining equipment including conventional machines to provide the parts you need. Offering machining processes that allow us the capability to machine virtually any component you require.
Are you are looking to develop a new project, or need help creating a re-design? Or looking for help making an existing part better made, faster, and more affordable? Allow Jaco to help you, we can assist with any plastic machining services you may need.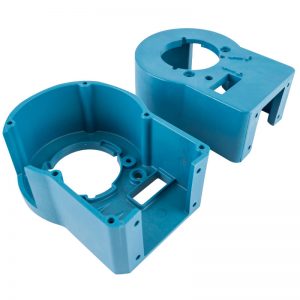 Plastic Materials That Can Be Machined
Jaco specializes in the machining of:
Delrin
Nylon 6/6, 6, 6/12
HDPE
FR-4
G-10
PEEK
Lexan/Polycarbonate
PTFE
Teflon
Udel
UHMWPE
Acrylic
Ultem
Reliable Plastic Machining
What can Jaco do for you? Our technicians have extensive experience in machined plastics and they pay attention to every detail throughout the machining process. They can provide detailed reports throughout the production process including the monitoring of materials used. Jaco is committed to providing precision machined products along with precision customer service.
When you partner with Jaco you receive results, reliability, and dependability with all we have to offer:
Superior quality control processes that conform to industry standards

Full manufacturing requirements from assistance with product development to full manufacturing

State-of-the-art manufacturing equipment that provides a reliable, cost-effective product

Vendor managed inventory systems that support your process

Protect from market volatility with long-term professional relationships

Custom packaging tailored to meet the specific needs of your company

Total commitment to meeting our customers' machining requirements. We aren't happy until you are happy.
Would you like to learn more about how a plastic machining company can truly meet your needs? Are you ready to partner with a machining shop capable of meeting the demands of your complex products?
Contact Jaco today. Give us a call at 440-632-5800 • fax 440.632.0012.