Jaco utilizes quality plastic for machining and state of the art machining equipment to help us handle the demands of today's plastic machining requirements. We have more than 56 years of experience, with extensive knowledge of thermoset and thermoplastic engineered materials. Our staff can guide you in selecting the right materials, all the way through the process to your final product.
Jaco – Your Choice for Plastic for Machining
We take pride in staying ahead of the competition in machining plastics. We are at the forefront of our industry and we understand the latest in technological developments. Our goal is to use the best plastic for machining materials available.
From prototype to production to market, we support your efforts whether you are designing something completely from scratch or improving an existing product. We're also happy to step in when you are looking for an alternative to your current plastic machining company – even if the process has already begun.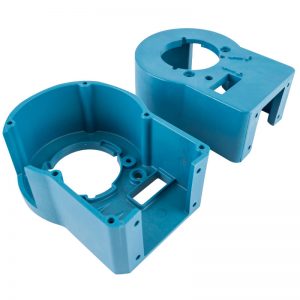 Finding the Plastic Machining Company Right for You
Jaco offers everything you need and more. We are a one-stop-shop for developing your products and seeing them through to production and market. When you work with Jaco, you never need to worry about dealing with more than one company for a single project. We sign on from beginning to end, ensuring continuity and quality every step of the way. We take the time to understand your product and offer more than just an end result. You'll get the best plastic machining experience when you work with Jaco.
We are an expert plastic machining and Delrin machining that provides quality machined Delrin products and top-notch customer service. Our number one goal is ensuring your satisfaction with the end result.
Our Services
Our services include more than just finding plastic for machining.
You can count on us for better pricing, high quality, and technical support. To learn more or to discuss your product with our technical staff, contact us today! 440-632-5800 • fax 440.632.0012.