Jaco has been providing custom ABS plastic machining for more than 60 years. We fabricate plastic components better than industry competitors, plastic fabricators or plastic manufacturing companies and we have unparalleled knowledge of thermoset and thermoplastic engineered materials.
We take pride in our machining capabilities, which include 5-axis machining, routing, milling and turning with precision tolerances of .0001″. Our hope is to continue to invest in state-of-the-art equipment that makes it possible for us to handle high tolerance requirements, as well as small and large volume projects – all while maintaining competitive pricing.
Custom Plastic Machining that Meets Your Needs
At Jaco, we emphasize quality, experience, and commitment to every phase of the machining process. We offer state of the art machining capabilities and award winning quality inspections, so you get a top-notch product every time. Furthermore, our attention to detail ensures quick, efficient turnaround and on-time delivery for all of your custom plastic machining jobs.
Jaco is dedicated to machining only the highest performance plastics. We only use the most modern equipment available and work with the techniques that provide quick and accurate production. Our software packages are capable of performing comprehensive inspections with complete reports. As a result, you have complete traceability of all materials used.
Our shop is capable of making a wide variety of plastic machined parts. Jaco's industry experts assist with the client design process, so you have support and guidance right from the start. Our goal is to help you streamline your custom plastic machining process so you save money and time, while still getting the best possible products.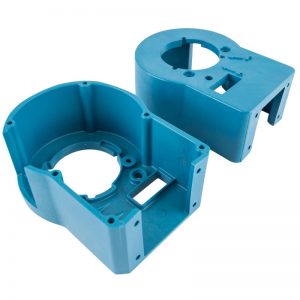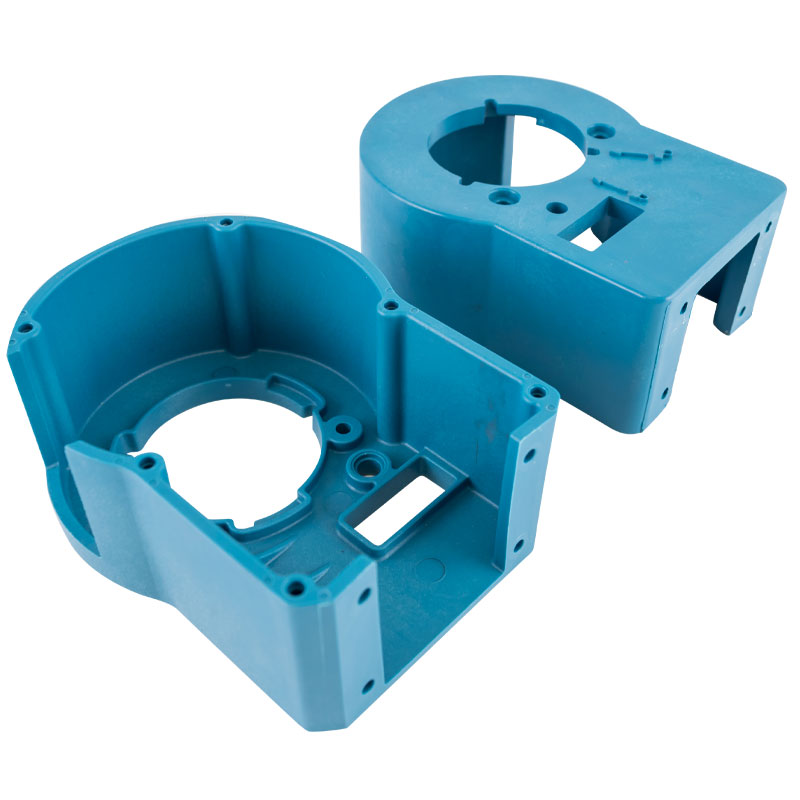 Jaco Plastic Manufacturing Services
Jaco Products offers a wide variety of plastic manufacturing services, so you can get the products you need for any application:
CNC Plastic Machining
Our state-of-the-art plastic manufacturing facility houses advanced 5-axis CNC machining equipment, so we can offer the utmost precision for the fabrications of prototypes and full production runs. We also offer competitive pricing for our CNC machining to fit within your budgetary restraints regardless of your project's volume. Additionally, Jaco has immense experience with both thermoset and thermoplastic materials, so we can custom manufacture parts to suit the unique requirements of your application.
Jaco works with a diverse variety of plastic materials:
PEEK
UHMW
CPVC
PVC
Polycarbonate
Kynar
Nylon
Acrylic
Acetyl polypropylene
Jaco Products offers unmatched versatility in plastics manufacturing. As a result, we have the ability to supply a wide variety of industries, including marine, chemical, automotive and aerospace, as well as the military.
Plastic Injection Molding
Here at Jaco, we have comprehensive knowledge surrounding all aspects of plastic injection molding. We can work by your side from the beginning to the end of your project. With our skills and resources, we can assist with design, prototyping, material procurement and other tasks through the process. However, if you are not sure of what materials you need, we can provide you with expert recommendations based on the performance requirements of your application. Furthermore, Jaco has the ability to customize the process for unique components while maintaining the impeccable product quality.
Mold & Platen Insulation
Jaco is also a top supplier of mold and platen insulation products. These products are an ideal method for reducing overall energy consumption while improving processing variables. Here are some of the products we offer:
Mold Insulation
Platen Insulation
Thermal Insulation Board
And More!
Jaco's mold and platen insulation products also have low thermal conductivity, processing temperatures, thickness tolerance, compression strength and cost. Additionally, we can supply these products in 17 separate materials!
Stamping & Die Cutting
In addition to our other services, we offer engineering of die-cut plastics for enhanced performance. We have the ability to reach a maximum capacity of 25 tons with our steel rule die. Furthermore, Jaco offers lower tooling charge relative to standard stamping services.
Why Choose Jaco Over Other Plastic Manufacturers?
As a leader in custom plastic manufacturing, Jaco Products has many unique advantages over competing plastic manufacturing companies:
Our quality control processes both meet and exceed industry standards
We can assist in product development from prototyping to final production stages.
Our advanced CNC machining equipment is perfect for fabricating high-quality products at a highly efficient rate.
We offer vendor managed inventory systems to support your process.
Jaco creates long-term professional relationships with every customer to protect from market volatility.
We can create custom packaging to fulfill your delivery requirements.
Choosing Jaco means you work with a company with superior versatility in custom plastic machining and valuable resources in the procurement of high-quality materials. As a result, we can handle even the most challenging custom machining projects regardless of your application.
Call on Jaco for Your Custom Plastic Machining Needs
You can count on Jaco to provide complete solutions for your custom plastic machining needs.
Our reliable machining capabilities offer customers quality machined parts and we are able to create custom programs directly from your files or drawings, so we can maintain unparalleled accuracy of every finished product you receive.
If you want to know more or you are interested in learning about Jaco and what we can do for you, call us today.
Can plastics work for you? Plastics applications include:
Water Treatment
Food Processing
Packaging Equipment
Lumber
Machinery Wear Parts
If you have questions about plastics machining or you are ready to discuss your situation with Jaco, give us a call 440-632-7096 • fax 440.632.0012 e-mail: [email protected].